McDonald's Is Offering This Major Deal On Its Most Popular Breakfast Item
Nab the beloved egg sandwich for only 63 cents.
To know the Egg McMuffin is to love the Egg McMuffin. But even the most die-hard fans of McDonald's iconic breakfast sandwich might not be aware of a major milestone coming up: on November 18, Mickey D's is celebrating fifty years of Egg McMuffin-ry. And the chain is doing so by taking a major step back in time and offering a major deal.
When the Egg McMuffin was first introduced in 1971 at a McDonald's in Santa Barbara, it was the first-ever fast-food breakfast item. It flew out of fryers and off shelves at only 63 cents a pop, which by today's standards sounds staggeringly low, but is actually the equivalent to around five dollars. This week, though, the brand is setting inflation aside and inviting customers to pay homage to five decades of McMuffin history by snagging a sandwich for that original price. We don't have to tell you that 63 cents in 2021 equals a pretty steep sandwich discount.
RELATED: McDonald's Just Announced a Major Celeb Collaboration On a Holiday Menu
The discounted Egg McMuffins will only be available during breakfast hours and through the McDonald's app on November 18, so set your alarms. And, once you're there, the chain is suggesting another form of celebration: trying out Egg McMuffin hacks that have been perfected by customers over the years.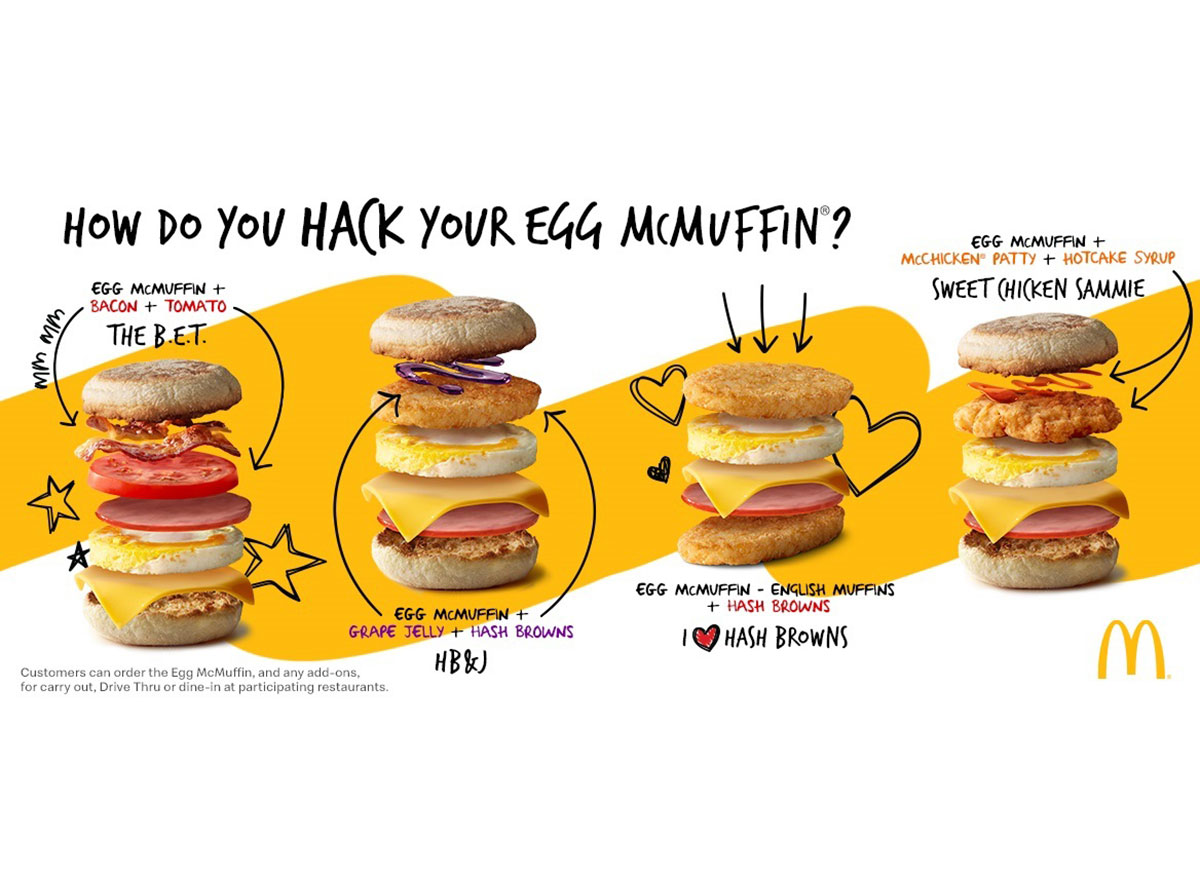 Molly McKenna, McDonald's senior director of brand communications, said in a press release that "customers have been getting creative" with the iconic sandwich since it launched in 1971. This creativity ranges from combining the Egg McMuffin with its Sausage McMuffin counterpart to adding a chicken patty for DIY chicken-and-waffles, and our personal favorite: swapping the English Muffins out for a pair of hash brown patties.
Whether you choose to stick with the McMuffin as it was originally designed in the '70s, or you decide to test a modern spin, the 50th birthday celebration this Thursday is not one to miss.
For more, check out:
And don't forget to sign up for our newsletter to get the latest restaurant news delivered straight to your inbox.
Kaley Roberts is a food writer.
Read more